Share this post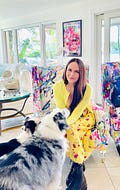 Florida Artist Karen Schremmer
www.theneighborlyfl.com
Florida Artist Karen Schremmer
Learn more about artist Karen Schremmer and hear the story behind the story.
THE NEIGHBORLY FLORIDA is a reader-supported publication. To receive new posts and support my work, consider becoming a subscriber.
THE NEIGHBORLY | FLORIDA | PALM BEACH Podcast
The Neighborly is a introspective photojournalism and storytelling newsletter with an emphasis on the human condition, culture, interviews, and historical relevance. The Newsletter is FREE!